What does "Account Closed" mean on a check?
Why was my check returned "Account Closed"?
Can I redeposit a check stamped "Account Closed"?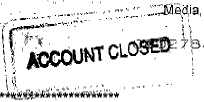 Definition of Account Closed  also Closed Account, or Acc't Closed -

When the bank stamps "Account Closed" or puts the Closed Account stamp on a check, draft or RCC that was deposited, this means the account holder's bank account that was associated with that check is closed.  The account was active at one time, but is now closed.

Items that are returned Closed Account, or account closed items, cannot be re-deposited. You must get a new check from the account holder when the item was returned Account Closed.

Most items will be stamped - Do not redeposit. In some cases the account number will be blocked or punched out to make re-deposit impossible.

If you deposited an item returned for Account Closed, you will be charged a fee by your bank, usually ranging between $5 and $39 depending on your bank and the state where you opened your account.


____________________________________

Most Common  Reasons For Return 
 - Not Sufficient Funds
 - Uncollected Funds Hold
 - Stop Payment
 - Closed Account
 - Unable to Locate Account
 - Frozen Account
 - Refer to Maker
 - Not Authorized
RoutingTool™ Professional
Real-Time Virtual Terminal
Unlimited Free Transactions with No Advertising or Captcha
API Integrates Seamlessy wth Any Platform*
Batch File Upload or Database Download*
*API / WebLink / Batch File Upload Average
$0.055 transaction fee
GET STARTED
$9 Setup fee
$50 Initial Deposit
------------------
$59- Total to Start
Order NOW
Free Virtual Terminal Account
Real-Time Virtual Terminal
Supported by Advertising and Protected by Captcha
API, Batch Upload and Weblink are Inactive with Free Version
Daily Updates - Same Results as a Paid Account.
Unlimited Users / Unlimited Free Transactions
No Transaction Fees

No Monthly Fees
Free to Sign Up
FREE SIGN UP

The Routing Number is a 9-digit number located between the Transit Symbols at the bottom of a valid U.S. check.

Routing Number Results are Updated Daily from the eRoutingNumber™ Database. This database includes exclusive data, not offered by other sources, like Fake Routing Numbers, and the Fraction Code or Fractional Routing Number found on the face of printed checks..
The eRoutingNumber™ database Includes All ABA Routing Numbers in the United States, as well as the bank website in many cases. The eRoutingNumber™ database also contains the bank phone number and best number to call for check verification.
The eRoutingNumber™ database uses many different sources and has evolved since 1998, and now utilizes user reporting to keep the data in check.

Any user can report a routing number missing, invalid, or provide details not included. We verify every submission and make notes or updates accordingly.
.
"If you suspect you
have a counterfeit
check, you should
never call the number
listed on the check to
verify funds."

- Fifth Third Bank

- Complete List Of Bank Participants By State:
- Listings shown from eRoutingNumber™ Database
All banks are covered, not just some. Here is a list of the 50 most common banks that RoutingTool™ customers look up:
About RoutingTool™
RoutingTool™ started in 1996 as a validator script for CheckWriter™ Software, and evolved into a complete database containing every routing number in the U.S. banking system.. The validator script is still posted at the "http://yourfavorite.com" website, similarly to how it appeared then. Now, the validator script is available in the professional account so you can integrate simple validation for PHP, C#, JAVA and PYTHON. RoutingTool™ data is automatically referenced for transactions using CheckWrtier™, BetterCheck™, Text-a-Check™ and WebDebit™.
RoutingTool™ is used by 90% of the Fortune 100 Companies for 2020. Successful businesses, including banks, finance companies, fintech solutions, insurers, investors, ecommerce giants and mom and pop businesses use RoutingTool™ Virtual Terminal or RoutingTool™ Professional Accounts to verify routing numbers.



Site Navigation:

Comply with Regulations.
Verify Data
Loss Prevention
- Reduce Loss
- Reduce Returned Payments
Verify a Check
Locate a Bank
Old RoutingTool Website


eRouting Number Database

Routing Number Database
Routing Numbers by State
Routing Number Lookup
RoutingNumbers by Bank Name
Free Routing Number Lookup
50 Most Popular Banks





External Links:

Checks by Phone
Web Order Form
Text-a-Check
Remote Created Checks
Verify Bank Account
Check Verification System
Routing Number Database



About Boston Commerce, Inc.

- About RoutingTool
- Free RoutingTool
- Routnig Tool Professional Account

RoutingTool is published by:
Boston Commerce, Inc.
119 Braintree Street, Suite 510
Boston, MA 02134